Directions from Long Grove, Illinois to ETI School of Skilled Trades
ZIP Codes: 97086-97299
Population: 8,610 (2020)
Area codes: 630 
Long Grove is a village in Lake County, Illinois, United States, approximately 35 miles away from and a northwest suburb of Chicago. Per the 2020 census, the population was 8,366. The village has strict building ordinances to preserve its "country atmosphere.  
ETI School of Skilled Trades is only a short drive from Long Grove area!
ETI Welding Lab 
ETI HVAC/R Lab
Contact ETI School of Skilled Trades today at (888) 830-7678 for more information on our welding & HVAC/R programs.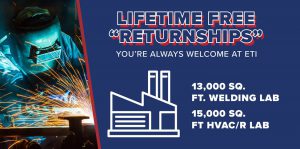 Some of the companies hiring our graduates: Sears ~ Tower ~ Lenox ~ Powell ~ Johnson Controls
ETI in Willowbrook, Illinois is now enrolling HVAC students and welding students!
ETI HVAC Program
ETI Welding Program
Hear from our HVAC Students
Hear from our Welding Students
Things to do in and near Willowbrook, Illinois
Willowbrook is a small village, known for its exceptional services and convenience to the metro Chicago region. Willowbrook's prime location and accessibility to attractions and locations make it an attractive location to live, work, and go to school. Despite its small size, Willowbrook is well served by an abundance of attractions and retail centers include the Willowbrook Town Center. Willowbrook has ten well-kept community parks and is nearby the Waterfall Glen and Salt Creek Forest Preserves.
Here are some of the best things to do in Willowbrook, Illinois.
Prairie Trail Park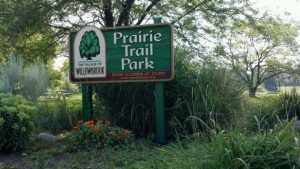 Since 1988, Prairie Trail Park has been providing visitors with a beautiful respite amidst nature. It is a great place to go for a quick stroll or spend an afternoon bonding with the family. Prairie Trail Park also offers designated picnic areas, a playground, and a fishing pond, making it a very family-friendly place to visit in Willowbrook. Its acres of vast greenery also provide areas where kids and dogs can play carefree.

Waterfall Glen Forest Preserve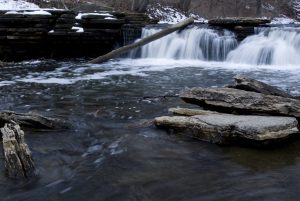 Waterfall Glen Forest Preserve is a 2,492 acre (1,008.5 hectare) preserve in the Forest Preserve District of DuPage County. The preserve's varied topography is comprised of prairies, savannas, wetlands, waterfalls and oak/maple woodlands. Because of the variety of landscapes, there are over 300 species of mammals, birds, fish, amphibians, and reptiles found here, as well as migrating birds, that thrive within the preserve.
There are also a wide variety of outdoor activities available to visitors. There are four mapped trails that hikers, bicyclists, horseback riders and cross-country skiers have access to, and which cover some of Waterfall Glen's most scenic areas. Visitors on foot can explore the narrow, unmarked footpaths that crisscross through Waterfall Glen. Several old quarries scattered throughout the preserve offer still fishing waters. There are also two youth-group campsites, each sharing a shelter and a large grill.

Morton Arboretum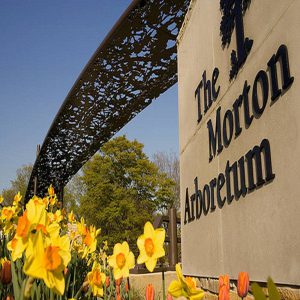 Covering 1,700 acres (688 hectares) is a public garden and outdoor museum. Its grounds include a cataloged collection of trees and other living plants, gardens, and restored areas, a library, and an herbarium. It is also a place of recreation, with hiking trails, roadways for driving and bicycling, a 4 acre (1.6 hectare) interactive children's garden and a 1 acre (.4 hectare) maze. The arboretum offers an extensive nature-centered education program for children, families, school groups, scouts, and adults.

Graue Mill and Museum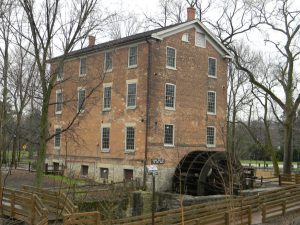 An operating waterwheel grist mill and homestead is the only operating waterwheel gristmill in the Chicago area. The mill, a major center of economic life during the 19th century, was used by Fred Graue to hide runaway slaves on the Underground Railroad on their way to Canada. Graue, who immigrated from Germany, operated the mill for 70 years until modern milling methods made the old mill obsolete and the mill was abandoned. The Frederick Graue House stands adjacent to Graue Mill and Museum and was built for the Graue family, between 1858 and 1859. In 1975, Graue Mill was listed on the National Register of Historic Places and in 1981, it was recognized as an Illinois Historic Mechanical Engineering Landmark by the American Society of Mechanical Engineers.

In a different area?
Find directions from the following cities: