Why Trade School Makes Financial Sense
Are you planning to further your studies but are torn between attending college, university, or trade school? One of the most critical factors you must consider is the cost of tuition for each. Although tuition varies depending on the trade school or program you choose, you will spend approximately $33,000 to complete a trade school program. Conversely, a student joining a college or university will pay this amount for a single year's tuition.
You may choose a trade school or vocation school to acquire careers requiring technical, mechanical, or manual skills. Career paths in trade schools include HVAC/R, masonry, home inspector, construction, carpentry, electrician and welding. You can also find these careers in community colleges and apprenticeships.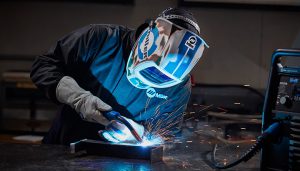 The following trade school career guide will explain the financial benefits of attending an ETI School of Skilled Trades for HVAC/R or Skilled Welding.
The Financial Benefits of Attending Trade School
Today's economy is in high demand for skilled trade workers such as HVAC/R technicians, plumbers, hairdressers, auto mechanics, electricians, welders, and healthcare workers. Do not let the cost of education deter you from pursuing a career in this high demand category. As you plan to join trade school, here is how you will benefit financially:
Save Money in Trade School
Did you know that you can complete a trade school career program with approximately $33,000? This amount is less than half the amount you will spend pursuing a career in a four-year university program. A student that joins a public university pays around $20,000 per year. The total amount increases significantly if the student spends five to six years to finish their undergraduate degree.
The university cost goes up if the student joins an out-of-state school or a private university. To justify the high tuition payments, a learner must choose a career that guarantees them direct entry into a high-paying career. Unlike university education, a trade school student pays less tuition fees and gets more free time for part-time jobs. Students finish their trade school program ready to join the workforce.
Financial Aid for Trade Schools
Although attending trade school is cheaper than a traditional college, some students cannot afford it. Fortunately, accredited trade schools like ETI have financial assistance programs for those who qualify, such as The Federal Pell Grant, student loans, ETI Military Grant and federal veteran educational programs. Many programs also include scholarships such as Mike Rowe Scholarship by ETI to relieve students from taking large student loans. Talk to a financial advisor at ETI to explore your financial options.
Get Trained at ETI School of Skilled Trades
The decision on what to do after high school is often challenging. Often, the traditional college path does not make sense to many, mainly due to accrued student debt. Attending ETI School of Skilled Trades will cost you $16,000 versus most trade schools at $33,000 for tuition. Be sure to consider all the available options. However, remember a certificate from a trade school such as ETI could be a great way to kick-start your career path in life. Learn more about ETI School of Skilled Trades requesting information or calling the ETI phone number at (888) 830-7678.