Don't think that an HVAC certificate shoves your career options in a vent.
An HVAC education is the first step toward a career as an HVAC technician. It could also be the beginning of another exciting technical career. Here's a sample of the growing careers where you can apply your HVAC skills.
1. Pipefitter
Into heavy metal? You'll rock in a career filled with stainless steel.

Pipefitters install and maintain pipe systems. You'll begin each project with a detailed blueprint. This will be your guide to determining the size of the pipes you'll create and install. The work doesn't stop once the project's completed. You'll have to check the systems and do repairs as necessary.
2. Solar Energy Technician
If you want a career with variety, look no further. As technology changes, so too does HVAC.     
There's nothing that proves this more than the growing field of solar energy. Solar technicians fight climate change by installing and upkeeping solar panels. These panels are intricate, so you'll need to have a delicate hand to succeed.
3. Fabricator
This one's for the HVAC technician with a creative streak.
Fabricators work closely with their clients to create products that meet their specifications. These detailed oriented professionals keep a close eye on their blueprints and their hands.
4. HVAC Engineer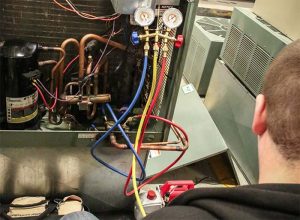 Are you an HVAC technician looking to take the next step in your career?
Consider earning a bachelor's degree in engineering and becoming an HVAC engineer. Engineers in HVAC design large-scale heating and ventilation systems for buildings. You must be knowledgeable about airflow, climate control, and legal regulations.
5. Installer
Sometimes the best careers are found in the basics.
Installers build and maintain HVAC systems in residential and commercial buildings. This job is ideal for people that want to become masters in heating and ventilation.
6. Refrigeration Technician
Rotting food doesn't just smell bad. It's a health hazard that can result in a hospital trip.
Luckily, our stomachs are safe thanks to the vigilance of refrigeration techs. Refrigeration is a specialized field of HVAC that keeps fridges cold and food safe to eat. Going into refrigeration requires studying cooling technology and transportation systems.
7. Air Conditioning Technician
Consider yourself a specialist rather than a generalist?
You might be the perfect candidate for an A/C technician career. Air conditioning technicians focus on maintaining and installing air conditioning systems. They have loyal customers whose building policies they understand and representatives with whom they maintain a positive relationship.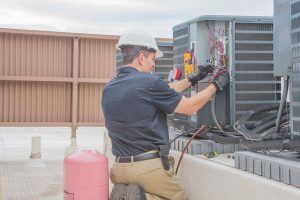 8. Wind Turbine Technician
The possibilities that come with this career will blow you away.
Windtechs get to see the best views every day. That's because they're spent under bright skies at wind farms. Wind turbine technicians preserve their beauty by maintaining and operating wind turbines.
9. HVAC Mechanic
Want to go into HVAC but not comfortable branching out on your own.
Get your start as an HVAC mechanic. These positions are entry-level and supervised, meaning you'll get the feedback you need to grow.
Find Your Dream Job with ETI's HVAC Career Services
Want to go into HVAC but have no idea where to start?
ETI's Career Services Department is on your side. Our experts have experience in job findings and connections in the HVAC industry. With a little preparation, you'll have your dream career in no time.
Find out more by visiting our website.